Employment Network News: March 2017
2017-03-20
By: Employment Network
Posted in: Network News
Employment Network News: March 2017
Connect | Share | Learn | employmentnetworkwi.org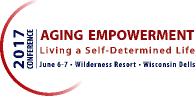 The keynote speaker for the 4th annual Aging Empowerment Conference: Living a Self-Determined Life, sponsored by InControl Wisconsin, will be the Associate State Director State Advocacy from AARP Wisconsin, Helen Marks Dicks.   The keynote address is titled, "Powerful Aging: Changing the Stories We Tell."  Relationships between generations, just like those between individuals, are often based on perceptions, both positive and negative. How powerful we are and how powerful people perceive us to be can be limited or enhanced by attitudes about aging.  On one hand, those perceptions can be empowering and enriching.  They can enable and embolden people to stand up for their beliefs in the face of fear.  They can cultivate passion and meaning out of the pursuit of lifelong goals and dreams.  On the other hand, negative perceptions, if left unchecked and unchallenged, can construct barriers that limit our possibilities and define us in terms of deficit, particularly when it comes to aging.  The challenge for each of us is to rewrite the narrative of aging and tell a story that we have written and the one we want to live.  Helen Marks Dicks will share her thoughts on how we can all express our own power as the author of our own life story and how together we can reshape perceptions of aging.
Watch for registration information for this year's Aging Empowerment Conference coming soon! 
Changes to Medicaid
National disability organizations consider the current changes to the Affordable Care Act (Obamacare) and Medicaid to be the biggest dangers to health care and long-term care for people with disabilities in recent memory.
This puts Wisconsin services and programs like Family Care, IRIS, the Children's Long Term Support Waivers, the Katie Beckett program, Birth to 3, school therapies, and Medicaid Personal Care at significant risk.
Lynn Breedlove and Lisa Pugh will present the latest news on current proposals in Congress which would radically change supports available to people with disabilities and their families and negatively impact the local economy/jobs in Wisconsin.  
Attend this training sponsored by InControl Wisconsin and other disability organizations to learn what is at risk in your community and participate in small group strategy discussions to develop an Action Plan for your Congressional district.
Upcoming Events 
Post your event on the Employment Network and it can be included in future Network News emails to members! Questions? Contact Stacy Ellingen.  
Stacy's Journal 
In this month's entry, Stacy discusses how, just like everyone else, people with disabilities strive to be independent. She shares how a recent change in her life has been stressful, but, yet, has made her as independent as possible. We encourage you to share your experiences as well.
Take five minutes to check out what's happening on the Employment Network:
The Employment Network is powered by In Control Wisconsin and supported financially by our members and Sponsors. We couldn't keep this Network going with you! Find out how you can support the Network!