Registration Now Open for the Aging Empowerment Conference!
2017-05-02
By: Employment Network
Posted in: About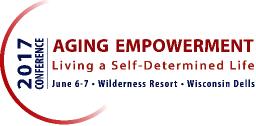 Registration is Now Open for the
Aging Empowerment Conference 2017:
Living a Self-Determined Life
June 6th--Conference
June 7th--Self-Determination Summit
Glacier Canyon Lodge Conference Center
at the Wilderness Resort
Wisconsin Dells, WI
Join InControl Wisconsin and other sponsors and explore self-determination and empowerment in aging. We will examine new approaches to aging that support autonomy and choice.
 Who should attend?
The conference attracts a diverse statewide audience that includes older adults, caregivers, and professionals.
 Please see the brochure for registration information or click here to register
Featured Programming:

Keynote Address -  Powerful Aging: Changing the Stories We Tell
                                  Helen Marks Dicks, Associate State Director State Advocacy, AARP Wisconsin.
Self-Determination Summit -  Learn how all of the current health care reform proposals will affect seniors, and how you can become a more effective advocate.
Workshop Programming - Highlights include:

Emotional Intelligence: The New Success Factor
Empowering Older Adults to Maximize Their Medicare Benefit
#ShePersisted: Getting What You Want
Consumer Satisfaction: The Wisconsin Veteran Directed Services Program
Hotel Reservations
Reserve a room at conference rates by calling 1-800-867-9453 by May 19th. Ask the reservation agent to book your room under the Aging Empowerment 2017 block. Reserve early before rooms are sold out!  
Sponsor and Exhibitor Opportunities are still available. Join us!
Conference registration closes June 1st!
 Questions? Contact Peggy Rynearson at 608/446-4206 or prynearson@gmail.com