Employment Network News: May 2017
2017-05-22
By: Employment Network
Posted in: Network News
Employment Network News: May 2017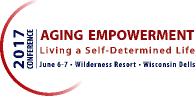 Register now for the 4th annual Aging Empowerment Conference: Living a Self-Determined Life which will be held June 6th (full conference) and June 7th (Self-Determination Summit) at  the Glacier Canyon Lodge Conference Center at the Wilderness Resort in Wisconsin Dells.  Sponsored by InControl Wisconsin, this unique event gathers older adults, their families, and the professionals who support them and explores self-determination and empowerment in aging.  Registration closes June 1st. Learn more and register today!
Changes to Medicaid and the AHCA
Recently, the U.S. House passed a health reform bill (AHCA) that cuts Medicaid funding by 25%, and jeopardizes the important Medicaid supports that makes it possible for people with disabilities to live and work in the community instead of being forced into nursing homes or institutions. People with intellectual and developmental disabilities rely on Wisconsin's 20 Medicaid programs— including Family Care, IRIS, MAPP, BadgerCare—and the ForwardHealth card to stay healthy, become employed, and remain in their homes. Medicaid also provides essential therapies, equipment, special education services and equipment from physical therapists to feeding tubes, and many other services critical to people with disabilities and often makes the difference between caregivers being able to keep their jobs or leaving the workforce to care for family members. The House bill caps and cuts federal funding for the entire Medicaid program without placing any controls on rising health care, prescription, and other increasing costs. The bill suggests per capita caps and block grants to Medicaid, which will force states to make decisions on who should be covered under state Medicaid programs, whether people have to wait for services, and what community based services and supports are included.  
The version of the bill passed by the House also allows states to charge people with pre-existing conditions more for their health care and lets health insurance plans stop providing Essential Health Benefits like prescription drugs, speech, physical and occupational therapies, and mental health and substance use disorder treatments. The AHCA has now moved to the Senate, where a 13-member working group has been established to draft a Senate health care bill that will draw 51 votes of support.  
In April, The Arc Wisconsin hosted an online conversation with The Survival Coalition of Wisconsin Disability Organizations and the Wisconsin Long-Term Care Coalition to update Wisconsin residents on the latest threats to Medicaid. This training featured the latest information direct from The Arc US lobbyists who have been spending time on Capitol Hill.  You can listen to a recording of the training and view the presentation slides here. We encourage people to contact the Wisconsin Senators to ask questions and share their thoughts about this bill.  
The Employment Network includes some very talented members and we want to help you to get to know each other a little better.  In May, the Employment Network is shining the Spotlight on Nick Isham. When he isn't traveling the world looking for his next cuisine to cook, he wears dual hats as a Benefits Specialist and an Independent Living Specialist at an Independent Living Center.  He has a wealth of knowledge about work incentive benefits available to people with disabilities. Stop by this month's Member Spotlight to get to know more about Nick! 
Do you know an Employment Network member who we could shine a spotlight on next?

 Stacy's Journal
Eating is a necessity of human survival, but it's also a very social activity. In this month's entry, Stacy discusses some of the many challenges that people with disabilities face during mealtime. We encourage you to share your experiences as well.
Upcoming Events 
Post your event on the Employment Network and it can be included in future Network News emails to members! Questions? Contact Stacy Ellingen.  
Take five minutes to check out what's happening on the Employment Network:
The Employment Network is powered by In Control Wisconsin and supported financially by our members and Sponsors. We couldn't keep this Network going with you! Find out how you can support the Network!